for Curtain Walls,Building Envelopes,Facade Walls,
Rain Screens,Countertops,Elevators etc.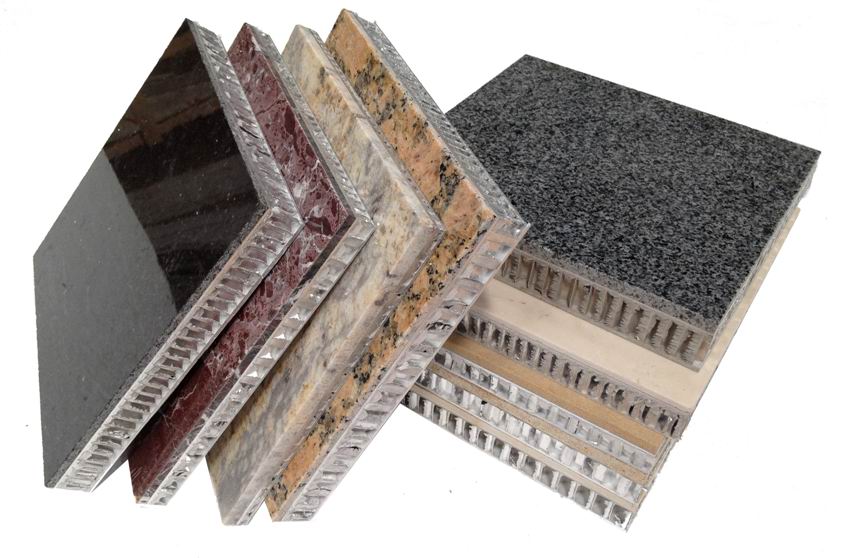 Real Stone
Honeycomb stone panel is composed of real natural stone veneer and aluminum honeycomb.
Natural stone is elegant look and with exquisite appearance.Color choice can be any granite,marble,limestone,
travertine,onyx,sandstone etc.
Real Thin
Stone veneer for the product can be 3mm~6mm thickness for customer to choose.
Of course we can a
lso make the stone veneer thicker than above if customer requested.
Real Strong
Honeycomb Stone Panel is with very good hurricane resistant performance and wind load capacity.
Its impact s
trength is more than 60 times greater than 3cm thick dimensional solid stones.
Real Flexible
Honeycomb stone panel is flexible and can move with structures,making it invaluable in regions prone to
hurricanes or earthquakes.Its flexural strength is about 3~5 times as dimensional solid stones.
Dimensional stone cladding is brittle and has low flexural and poor impact strength.
Real Lightweight
Weight of Honeycomb Stone Panel is about 4.6LBS/SF,approximately 65% less than standard 3/4" solid slab material.
So it is an ideal decoration material for high rise building and old building renovation,it shall reduce a lot of weight
load for the buildings.
Real Energy-saving
Honeycomb stone panels are fire proof,sound proof,weather proof,heat insulation and environment-friendly.
They are also moisture resistant,rust resistant,corrosion resistant.
Real Economic and Easy to Installation
Honeycomb stone panels are often the most economical choice for wall cladding.Normally they can be installed directly
over the existing cladding without the need for expensive demolition or reinforcing the building structure.They can be used over brick,metal,concrete,stuco and others. Installable using concealed mechanical fasteners or adhesive,making installation the easiest with no sweats,reduced installation cost and time.